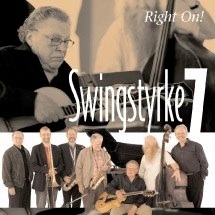 Right On!
LBR CD 07003
DKK 145,00 / € 19,50
TILBUD DKK 100,00 / € 14,00
Beskrivelse
In a Mellotone / Swingin't the Blues / For Lena and Lennie / Corner Pocket / Secrets / A Smo-o-oth One / Robbins' Nest / Broadway / Doodlin' /
A Beautiful Friendship / Undecided / Step Right up
---
Anmeldelser
"Udover at sætte fortiden så smukt på plads, foretager Little Beat Records også nyindspilninger. Det sker ved stort anlagt jazzsammenkomster i Bilhuset Taastrup, og første udgivelse herfra er med Swingstyrke 7. Denne septet ledes af den nu 82-årige guitarisk Jørgen Hallin Olsen, som stilistisk altid har lagt sig i slipstrømmen af den berømte Freddie Green, der i en menneskealder sad i Count Basie's orkester. Jørgen Hallin Olsen leverer en metronom-agtig puls og sekunderes af så stærke folk som pianistien Ole Kock Hansen, bassisten Hugo Rasmussen og trommeslageren Aage Tanggaard. Det swinger kort sagt, og med et repertoire i den store Basie/Ellington-tradition, kan folkene på frontlinien – og det er basunisten Anders Jacobsen, altsaxofonisten Jens Søndergaard og tenorsaxofonisten Niels "Flipper" Stuart – bare lade sig bære af sted og kreere god ensemblelyd og ikke mindst masser af høreværdigt solospil. Det gør de – alle kommer godt omkring og især er det en fryd at lægge ører til Stuarts varme og velformulerede tenorsaxofonspil samt hans meget organiske fløjtespil.

Alt i alt er musikken imødekommende og helstøbt. Og det er overflødigt at sige, at det medfølgende informationsmateriale befinder sig på ypperste niveau."

Kjeld Frandsen, Berlingske Tidende
2.12.2007
---
"Den här danska septetten har existerat från och till i mer än trettio år och har haft många namnkunniga medlemmar. Den nu 82-åriga Jörgen Hallin-Olsen, som var en av grundarna, sköter fortfarande gitarrspelet i Swingstyrke 7 och två andra veteraner är kraftfulle tenoristen Niels Stuart, som också blåser skön flöjt, och den mycket kompetente altsaxofonisten Jens Söndergaard. Pepertoaren lutar starkt åt Basie-hållet och sämre förebilder kan man ju ha, ibland är arren regelrätta plankningar. Trygg och publikvänlig småbandsswing och ett formidabelt komp med Rasmussen och Tanggaard som effektiva pådrivare."

Christer Borg, Orkester Journalen,
7.12.2007