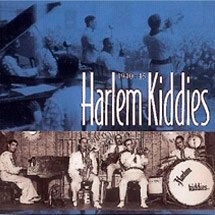 LBR CD 05001
DKK 145,00 / € 19,50
TILBUD DKK 100,00 / € 14,00
Beskrivelse
Sweet Sue / Limehouse Blues / Argentina / Between the Devil and the Deep Blue Sea / One O'clock Jump / I Ain't got Nobody / In a little Spanish Town / Amigo / Honeysuckle Rose / Solitude / Tiger Rag / After You've Gone / Whispering / You Can't Be mine / Once is enough for me / Do you Wanna Jump Children / May-Fair Boogie / Bye Bye Blues / Alligator Swing / Baby Swing / Confessin' / Flying Home / Ain't Misbehaving' /
Doin't the New Low Down
---
Anmeldelser
"Ser man bort fra udgivelsens dokumentariske værdi, må spørgsmålet være, i hvor høj grad musikken har holdt sig levende. Det har den afgjort …"
Boris Rabinowitsch Politiken 2-2-05. 4 hjerter
---
"Denne udgivelse er et fantastisk dokument over en periode i dansk musik, hvor man på trods af hårde tider, spillede livsglad og udadvendt jazzmusik. Musikken er unik, for vist er den amerikanske jazz den vigtigste, men har man bare en smule musikhistorisk interesse, er denne plade uomgængelig. Det svendborggensiske entusiast- selskab Little Beat Records har lavet et forbilledligt arbejde. De diskografiske detaljer tilfredsstiller enhver."
Niels Overgård. www.jazznyt.blogspot.com 7-2-05.
4 J´er
---
"Vilken professionelt arbete. En guldgruba för alla jazzdiggers!"

Arkiv Centrum, Örebro 1-2-05
---
"Jag är imponerad av Harlem Kiddies CDen (liksom Tuxen), både musikaliskt, ljudmässigt och sättet att presentera albumet,  dvs. texthäfte, diskografi, bilder, ect."
Jan Bruér, Rikskonserter og producent af CD serien "Svensk Jazzhistoria" 30-1-05
---
"The re-mastering of these 60 year old records is about the best I´ve heard in many years … This remarkable volume is well worth your attention. The enthusiasts who produced The Harlem Kiddies 1940-45 deserve our admiration and support."

Richard Bourcier, www.jazzreview.com 25-2-05
---
Fem forbandede gode år.
(fem stjerner)
"… Little Beat Records har stået bag indsamling og audiorestaurering af en håndfuld numre fra bandet.Det er der kommet en både historisk interessant og meget lytteværdig CD ud af. Med moderne teknik er det faktisk lydkkedes at få et pænt teknisk resultat, men det er først og fremmest som autentisk tidsbillede og jazz-historisk indslag, at Harlem Kiddies vinder …"
Peter Tougaard, Jydske Vestkysten, 1.3.2005
---
Listening to the sound you would never have guessed that they were made under war conditions … I am very impressed. I know that, with modern softwear, much can be done with old tracks, but that is not what I am talking about. I also have CDs of cleaned up British tracks from the 40s & 50s and they just don´ t sound the same; it is all down to the quality of the equipment and the sound engineers when the recordings were originally made … I like it and have surprised myself in how often I have played the CD. Some amazing music from a very difficult time."

Geoff Boxell. New Zealand
http://geoffboxell.tripod.com/jazz-rev.htm 3-2005
---
"The transfers are crisp and clean and the package offers a number of nice photos of the group. This one, a few tracks aside, is a great start showcasing an obscure, but deserving group. Well recommended."

Russ Shor, www.vjm.biz
Vintage Jazz & Blues Mart.  March 2005.
---
"Der er ikke noget at gøre. Musikken overfalder en, og man må overgive sig. Humøret stiger adskillige grader, og en våd vinterdag får pludselig rullende puls, liv og lemmer, lys og varme, mens man lytter til swingende Harlem Kiddies."
Marianne Hein, Fyns Amts Avis. 5-3-05
---
"Hvis en del af musikken på denne og andre tilsvarende cd´er i dag forekommer ret historisk, så er der unægtelig tidløse kvaliteter i Campbells på en gang elegante og intense saxofonspil … f.eks vil Harlem Kiddies Alligator Swing nok få mange lidt yngre lyttere til at spidse øren."
Jørgen Siegumfeldt, Jazz Special, Nr. 81 – 2005.
---
"Og det er fremragende, også fordi lydmanden Jørgen Vad har restaureret værkerne, så man skulle tro, de var indspillet i går. Også bookletten er af fornem klasse, og musikken er så sandelig ikke uvæsentlig."
Kjeld Frandsen, Berlingske Tidende, 11- 4– 2005.